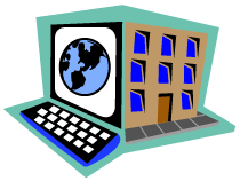 The BUENOS AIRES TOY MUSEUM.ARGENTINA.
The NEW Buenos Aires Toy Museum and soon in 3D only in Argentina
Basuritas For SALE
Original Series 1 and 2 from the late 1980's
Loose cards for sale.
Series 1 from the 1980's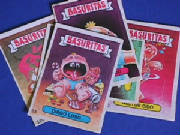 Seris 2 1980's
Basuritas & Monster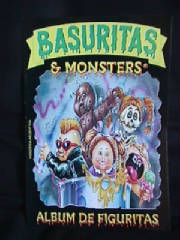 original Edition from early 1990s Album
Very rare packets from way back,in black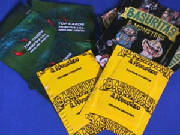 yellow and green.For sale.
Full Holofoil set of 36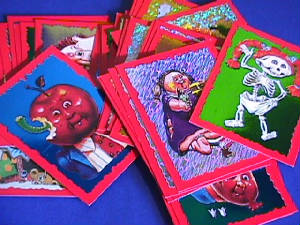 The best cards ever made and For Sale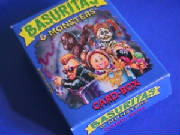 rare Blue Box for Holofoil Set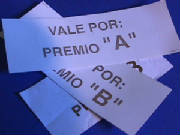 Rare gift cards that came in the packets.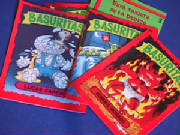 Set of 44 Trading Cards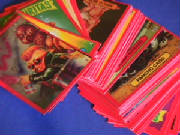 Set of 189 insert cards fro Black Album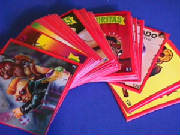 Set of 144 Cards
Two types of supliment albums as well as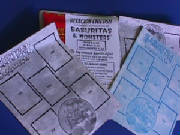 red packets with hard to get Flyers or Leaflets!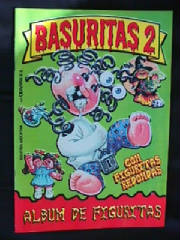 Basuritas 2 from the year 2003
Basuriats 3 from the year 2004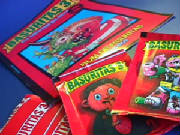 Comes also with mini, trading cards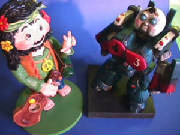 Hand made and one of a kind.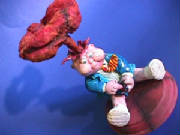 wow! The Atomic Booooooom!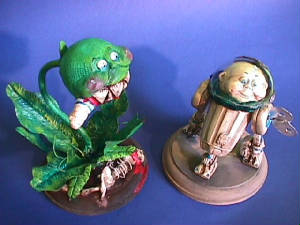 From Holywood and Broadway
"Los Asquerositos"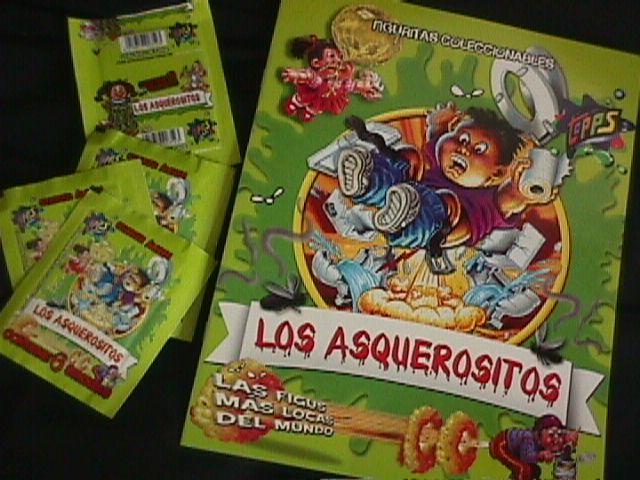 Album and packs, green.
See what the inside of the album looks like.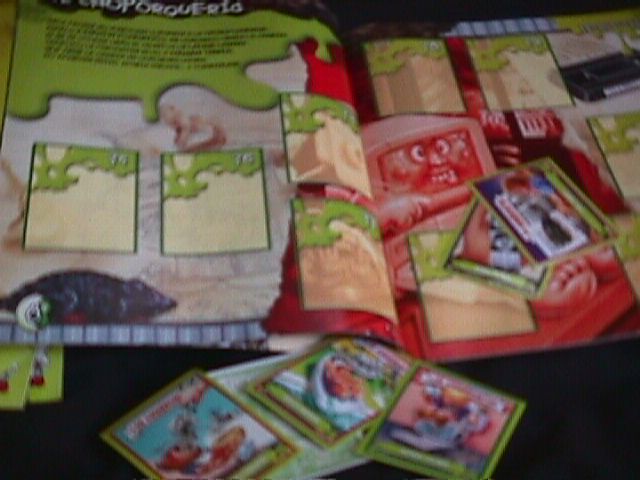 ALL original "Basuritas" from Argentina.
In Spain they are know as,"La Pandilla Basura".In France as "Les Crados" and in Italy as "Sgorbians",in Israel,"Havurat Ha'zevel", Japan "Bukimi Kim", Norway and Africa "Garbage Gang" , so world wide collecters,get your set today from Argentina! Read on for more information, Bob Frassinetti.
I have the original series "one" and "two" for sale, as loose cards, as well as the original early 1990s Black Album, sets of 189 card, Holofiol cards the 44 trading cards and all other sets and albums & sets like the 144 one,going all the way to the Basuriats 2 and now the 3 EDITION from the early part of 2004, and for sale world wide ......... Garbage Pail Kids sets made in Argentina.
Grabage Pail Kids trading cards are famous all around the globe. The American designer genius who came up with those motives is worshiped and beloved, for his creations are an outstanding acid humor version of the traditional girls' dolls the Cabbage Patch kids.
Inspired in the American version many countries have developed their own GPK series. Among the most famous ones are the Argentine version, which not only combines funny and wicked images but also words games with the first and last name. All the same the Argentinean designers have added some new motives and series.
The Spanish brand was inspired in the American GPK: Basuritas –local translation for the garbage ones. The first series was released in the early 80s. During those days there were many re-releases. The early 90s welcomed us to a new and weird GPK Argentinean version: Basuritas & Monsters ( there are some variations of this model ) which featured the early models altered and with new and interesting inputs.
The evolution of these trading –collectibles has been impressive from every perspective, though there were some variations and alterations, once the designers returned to the original pattern the latest Basuritas 2, the then re release and the less known, but equally interesting Basuritas 3 released early in 2004 had impacted considerably in all fans and collectors.
For the admiration and interest raised by all these fabulous characters, the Buenos Aires Museum's latest input to the collectibles world has been terrific.
Scale handcrafted sculptures of each and every one of the Basuritas characters are the obvious and necessary step in the world of GPK collectibles. Their quality and uniqueness, for each sculpture is specially crafted and there are no castings or serial models, its an artwork based on an other piece of art which is the trading card design.
The world of GPK is growing increasingly. It couldn't be either way when the subject of matter is so interesting and stimulating for the eyes and the intellect!
Some information on the Buenos Aires Toy Museum.
I would like to inform all readers on this web site, of the activities of the Buenos Aires Toy Museum, a virtual museum on the internet, where I am working on a research project on vintage toys and games from Argentina. This website is not only a virtual museum with permanent exhibitions, but also has information on shown items, their history and their cultural significance to Argentina, Latin America and world wide. We cover hand made toys as well as industrial items, objects abandoned in the last decade in favour of electronic video games. The Buenos Aires Toy Museum is intended to be a gathering point for those looking for collectors items from Argentina or information on them.
I am the creator of the museum, an antique dealer and collector, interested in all kinds of toys, including robots and space toys. With the help of Florencia Rodriquez, and Julian Rodriquez the museum has tackled many research projects on vintage toys. This group of three young university students works full time on the project, putting their heart and soul into the museum. They are working on two books, one on Argentine diecast cars, the other on toy robots, both soon to be published. We invite visitors to the website at www.ba-toymuseum.com.ar. The Spanish version has been updated and we are in the progress of updating the English one.
Or you can contact me: Bob Frassinetti.
Tel:0054 11 4799 0567
Roberto Dario Frassinetti, Director, Buenos Aires Toy Museum, Argentina
eBay
Today's instant buying trend .......
The ever-growing world's market has found during the last few years new means of expansion and connection. Such is the case of Internet based auctions were one can buy and sell all sorts of wonderful treasures from all over the world.
To this trend Argentina has been no stranger, and nor have we, threw the Toy Museum,
Toy Museum on eBay
I found this to be an extraordinary way to connect with the world's trends and movement and to show some of the fabulous treasures I discovered in Buenos Aires.
I have been selling at ebay for many years now, started way back in 1996, and as my feedback shows, I've done some great deals with high quality items, reasonable prices and the best possible treat to the buyer. I put the best of me in all my auctions deals and sales because I love what I do and auctioning valuable Argentinean made TRADING CARDS or TOYS not only allows me to continue researching and discovering Argentina's wonderful culture and history through means of its items but also through means of the Internet auctions, wordlwide collectors have discovered Argentina's wonders.
If you're looking for an Argentinean crafted TRADING CARDS or TOYS that I don't have for sale or posted in my museum please let me know, I -from time to time- hunt out treasures in off the path flea markets and fairs and may be I can help in your quest!
Toy Museum on eBay
We Rent Toys in Argentina - alquiler de juguetes

ART + RETRO Toys es el nuevo servicio creativo de The Buenos Aires Toy Museum.
Porque sabemos que no hay dos clientes iguales, hemos concebido esta propuesta para aquellos que trabajan haciendo eje creatividad, en lo último y lo más novedoso. Para causar el impacto máximo hemos concebido esta propuesta para aquellos que necesitan soluciones capaces de dotarle de la mejor presencia y de un perfil de avanzada. Nuestros pilares son: - Estética y Diseño - Creatividad enfocada a variados segmentos sociales específicos - Cultura y Vanguardia estética Tanto si busca nuevos clientes como si está desarrollo de una campaña comercial integrada para un cliente existente, la mejor respuesta es ésta propuesta temática elaborada a la medida y necesidad de cada evento. Esta novedosa propuesta estética propone una aproximación a los juguetes de nuestro pasado, los juguetes de la infancia, desde una perspectiva estética que valora sus aspectos lúdicos y estéticos, de diseño y arte existentes en todos los juguetes.
La singular combinación artística y temática: juguetes y obras de arte, da nacimiento a la muestra producto de la valoración de las corrientes artísticas primordiales de los últimos dos siglos.
Los juguetes de nuestra infancia se combinan con cuadros, esculturas, grabados, etc de artistas argentinos, Latinoamericanos, estadounidenses y Europeos, para crear un único ambiente estético tanto de categoría como de vanguardia por su concepto madre único. Este doble concepto se plasma en el display propuesto para la muestra, es decir, a partir de los muebles temáticos, en los que se dispone los juguetes retro y antiguos y las obras de arte, manteniendo una coherencia conceptual a la vez que temática que permite desarrollar una dinámica evolutiva de su desarrollo y de las diferentes estéticas, los materiales utilizados y los modelos sociales principales de cada momento El concepto de cada muestra es único e irrepetible porque se concibe y crea a pedido de cada solicitante en función del evento. La Muestra, el display, los cuadros, esculturas y juguetes se adaptan a las necesidades de los equipos de creativos para: - diferentes exposiciones - muestras- empresas y creativos- promociones- producciones televisivas y cinematográficas - agencias de publicidad- eventos sociales- Vernissage- Cocktail- Lanzamientos- Inaguraciones- Fiestas Nuestro equipo trabaja coordinadamente para aportar soluciones eficaces estética y conceptualmente al evento en cuestión. We Rent Toys in Argentina-alquiler de juguetes







Hours: Email me for more information
How To Order:
Shipping to any part of the world.In photo's on the left you will see what the albums and cards look like,as well as the loose cards, full sets, etc,.......need to see more or need more information,email me for thiss.
They are the best GPK I have seen!
Payble either with wire transfer, domestic or international, cashier/ personal checks or cash in BANK's of the USA, SPAIN, ITALY ,FRANCE or UK,Western Union Auction Payment,(for my ebay auctions,see eBay ID: Bob Frassinetti ) or some other on line banking method that we can work out in any part of the world.
Pease feel free to contact me and ask any question,or you can chat with me in my office in Frassinetti.biz, Buenos Aires, Argentina,
using Yahoo Instant Messenger,ID ( artdealer_ar )
MSN Messenger,ID: ( bob_frassinetti )
ICQ ID,( 78541000 ).
Best wishes from Argentina, Bob Frassinetti.
.
.
Hand made Figures.

Hand made,scale custom made with fine handcrafted, these unique sculptures of each and every one of the Basuritas characters are the obvious and necessary step's that collecters are taking, once you have collected all of the items possible,what more can you do, so GPK's in the world, believe.

Their quality and uniqueness, for each sculpture is specially crafted and there are no castings or serial models, its an artwork based on an other piece of art which is the trading card design.A one of a kind collectible being done by us from the Toy Museum.
.
Did you know? Just out in Argentina, October of 2004, "Los Asquerositos" Printed in Peru, sold in Argentina, GPK type cards, like Basuritas, album,was printed in Argentina, its green as well as packets.See photo....... each packet comes with 6 cards, album for 175 insert cards.
Made by TOPPS (trade mark) develloped and distributed by Topps Argentina, SRL.
Packs, cards and back of cards.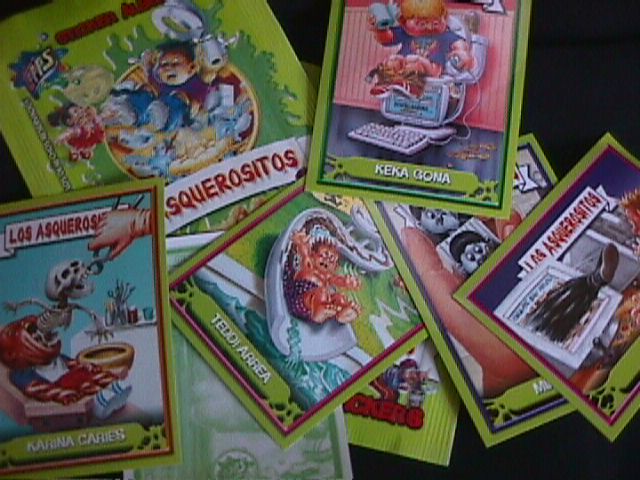 Printed in Peru for Argentina.